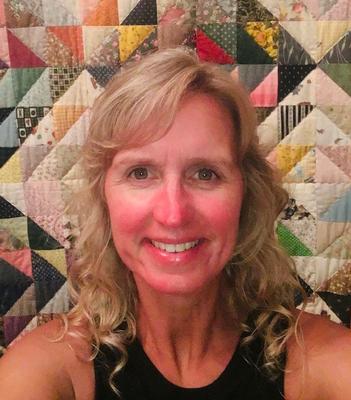 Karla Moseley is a small town farm girl from Tyler, Minnesota. She attended Mankato State University and received a degree in K-6 Elementary Education, a minor in Spanish and later a Masters in Elementary Education. She taught for 10 years in the public school systems in Bloomington, Morris, Shakopee, and Inver Grove Heights. Karla has a strong passion for children who struggle with learning and made it her goal to make learning enjoyable for every student. What did she learn in 10 years---parents make the most significant difference in a child's education bar none.
On April 1, 1997 Karla gave her life to Christ while attending Bible Study Fellowship. A month later she met her future husband. They married and when her first child was born, she stayed home. (Not really, she continued to work with children at church and Community Bible Study.) Karla officially started homeschooling when her oldest child was in second grade. He came home from school and declared, "I am stupid and I hate school!" Having worked with many children who were extremely right brained and knowing the Special Education system, she and her husband opted to homeschool. What a life altering, God centering change it was for them. Karla has been married for 22 years and has two boys and two girls—all teenagers.
Karla has a passion for children and serving the Lord through worship dance. She attended classes at Worship in Motion in Stillwater founded and taught by Barb Choneire. When her dear friend was ready to serve God in new ways, Karla decided to continue the program with her fellow dancer Crissa Evanoff. She has felt God calling her to grow this ministry where children learn to praise and worship God through Messianic & Christian music with tambourines, ribbons, flags, etc. With a new branch of Worship in Motion, comes a new name: Rejoice! Dance Ministries.
Psalm 150: 4 "Praise Him with timbrel and dancing,"
A favorite quote from Revival in Belfast's Michael Coleman: "There is one thing we do one earth that we will continue to do in Heaven. That is to praise and worship God. That is why we view life on earth, for those who love Jesus, as choir practice for Heaven. To say that praise and worship is the most important category of music today is an understatement. In light of all that, there is no more important activity of the human heart than to praise and worship God. This is the reason we exist. This is our purpose."
Current Classes
Rejoice! Dance Ministries - Advanced Tambourine - 6th - 8th+ – Instructor (open)
Rejoice! Dance Ministries - Beginning Tambourine - 3rd - 5th – Instructor (open)
Rejoice! Dance Ministries - Little Praisers - K - 2 – Instructor (open)